celebrity client ~林秀怡Kirby Lam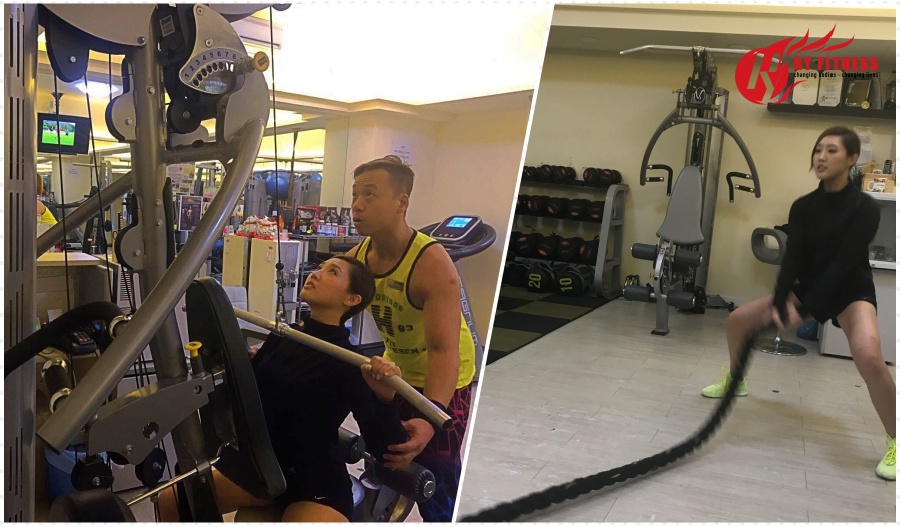 As a celebrity signed under TVB, Kirby Lam Sau Yi has impressed audience by her role as a large sized female trying to lose weight, in the show "Beauty Knows No Pain". In real life she is very busy with work, doesn't get to eat or sleep well and isn't very good at maintaining her health and weight.
Kirby has come to Ry Fitness, hoping to improve her shape and fitness levels through exercise. We have assessed her with our devices and written for her a personalized workout routine and diet plan. Since Kirby doesn't have much time to train, the first thing we will do is to help her workout as a beginner and prepare her body for daily needs, especially while working. Her routines include weight training to tone up the body, HIIT training for burning fat, along with a good amount of diet planning and tips, hoping for her to get back in shape with her daily diet.
After many training sessions with us and the changes of diet, Kirby's body has toned up a lot, especially around the waist. Even better is that she gained muscles through the training, she has started burning more fat than ever, and now finds it a lot easier to stay fit. We hope Kirby will keep up with her workout, stay healthy and have a successful career!
celebrity client ~Mandy Wong黃文意
will keep up with her workout, stay healthy and have a successful career!
Mandy started as a little girl celebrity, she is very experienced working for the media. In recent year she finished studying and started her career as a public figure. However because of the job she couldn't always rest and eat at regular times, and lacked exercise, her body often failed to stay the way she wanted. Mandy has high expectation for herself and came to us for a bit of help.
Mandy is a portrait model and very often she does bikini shooting, therefore she has high expectations for her own figure and shape. We have talked about it with Mandy and understood her needs. Our coach has given her a more advanced and aggressive training programme, including weight training for the hip, to improve the look of the lower body, so that Mandy can look healthier and hotter in her photos.
Mandy couldn't seem to spare much time to train either, therefore our coach had assigned for her some simple workouts for her to practise at home, so she could keep up with the progress! During the course, with the help of our diet advice, Mandy has greatly improved her physique and is happy with the results.
Some time has passed, and now Mandy has learned many skills for weight training, she is now very familiar with the training every time she comes to us. She now has a good looking body and the curves she wanted. She has become a model of healthy image.
We wish Mandy the best of luck, a healthy life and successful career!