Personal Trainer Ricky Yu
Hong Kong's First Korean Olympics Medal Winner – A Trainer With Us
When I was young, I wasn't a very strong child. I was given the chance to get involved in the gym, I watched myself grow slowly, even my health improved. Once I fell in love with it I couldn't get out. Now I'm sports crazy and an experience  private coach. "Bring my clients to their fitness goals in limited time" I tell myself that every day. I want to share with more people my experience and knowledge in health and fitness, spread the importance of gym and inspire more to get their daily life involved in the gym, to achieve our goal – Enjoy a healthy life.
2015 Korean Olympics Health and Beauty Association – Competition Judge
2015 Top 10 Outstanding Professional Fitness Champion
2015 Korean Olympics Health and Beauty Association's Holistic Pain Therapy – Champion
ET Net – journalist for fitness
"Healthy D" Fitness Blogger (Current)
City & Guilds of London Institute– Higher Diploma in Teaching, Training and Judge (Level 3)
Certificate in Holistic Pain Therapy (Level 3)
Personal Trainer James Wu
Certification
Professional Personal Fitness Trainer Certificate
Sports Injury Management Certificate
Sports Massage Certificate
Fitness Thai Boxing Instructor Certificate
Nutrition And Weight Management Certificate
TRX Suspension Training Certificate
St John CPR
Professional Services
Muscle Building,Toning & firming
Nutrition & Weight Management
Muscle Recovery Training
Flexibility & Core muscles Improvement
Sports Performance Training Physical coordination
Training Personal Circuit TraininG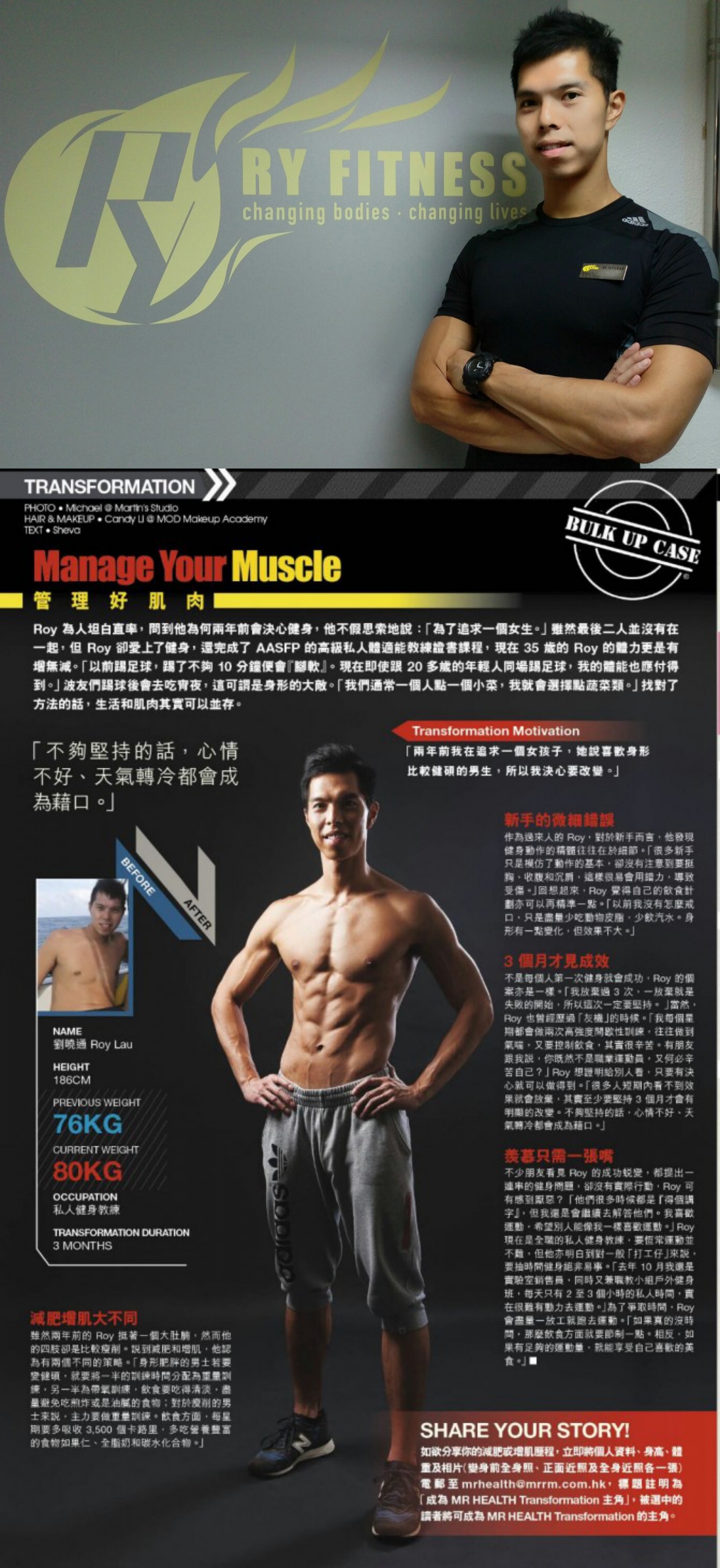 Personal Trainer Roy Lau
Certification


Andvanced Diploma In Sport Science (HKU)
Pilates Instructor (HKPFA)
Advanced Personal Fitness Trainer (AASFP)
Muay Thai Instructor Certification (AASFP)
Nutrition and Weight Management Certification (AASFP)
CPR (Hong Kong Red Cross)
Personal Trainer Faye Wong
Certification
Suspended Movement & Rip Functional Instructor(IPTFA)
Professional Personal Fitness Trainer(IPTFA)
Pilates Matwork Instructor(GFTA)
Personal Trainer Stanly Wong
Certification
Physical Fitness Foundation Course(PFA HK 2008)
Sport Science & Fitness Foundation(AASFP 2014)
Shaping & Toning For Ladies(AASFP 2015)
Advanced Personal Fitness Trainer(AASFP 2015)
Body Weight Training Instructor(AASFP 2015)
Junior Boxing Coaching (HK Boxing ASS 2015)
Sports Wrap & Message Course(HK Boxing ASS 2015)
Animal Flow Instructor(2016)
Fitness Specialist RT(AASFP 2016)
The Schroth Best Program(2016)
Personal Trainer ERIC Chan
– AASFP ATN Elite Coach
– AASFP Physical Fitness Private Coach of Higher Level
– AASFP Coach – Nutrition & Weight Management
Media and shows:
– Fittygang.com( Fitness blogger)
– TVB Show "Pleasure & Leisure" (都市閒情) – Fitness Coach 
– NOWTV show Fitness Coach
– ViuTV show "Clip In" (籌旗) – Athletic personality
– MRRM Magazine Interview – Sports
– JF DIGITAL Nutrition and Weight Management Course Interview
– AASFP Course Poster Model
Senior Nutritionist Wilson Chung

Diet and healthy living are key factors in the fitness prospective. Many may work out hard, however they overlook the importance of nutrition, and results come to them much less than they should. Everyone has different body structure and it is important for you to have a personalized diet plan and workout routine. You will spot the difference when you get when you start eating and living right. A balanced diet is the key. A healthy body is made of adequate nutrition, and will bring much more enjoyment to your living.